Tourism Software Product Line
Quick Look
Tourmatic Tour Operator Software
Modules:
· Tourmatic Core System
· I-Drive Vehicle Manager
· Roadwise Transport Scheduler
· I-Drive Car Rental Calendar
· Featherbeds Allotment Calendar
· Panta rhei Boat Sheduler
· Time Matters Diary

Night Express Hospitality System
Modules:
· Night Express Core System
· mySQUIRREL Inventory
· Time Matters Diary
· freePOS Point of Sale
· Online Booking Interface
pess Core System

mySQUIRREL Inventory

Time Matters Diary

freePOS

Online Booking Interface
BECOME A SAP-RAPIDE
RESELLER
Please contact us for details.
Tourmatic for Tour Operators
The Start of Great Tourism
Tourmatic Tour Operator Software Suite is developed by business engineers and software experts with over 25 years of proven international experience. By employing the CMMI Engineering Process you can be assured that quality is built into the software throughout the development process and life cycle.
SAP-RAPIDE'S software gets you running from day one. With Tourmatic's smartly integrated modules you simply streamline your workflow efficiently and consistently. Tourmatic goes beyond just creating quotes and itineraries. Whether you are an Inbound, Outbound, FIT, Scheduled Tours, or a Transport Provider, Tourmatic enables you to manage the full Business Transaction Cycle holistically.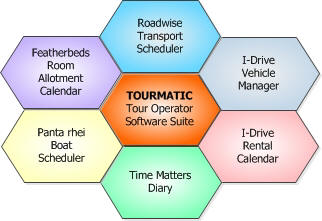 All the above illustrated modules are seamlessly integrated in one system at no extra cost! Undisputedly affordable value. Tourmatic is a must have for any professional tour operator. No more clumsy Excel workarounds. Excel is a spreadsheet - period. You have a business to manage! If you want more UGA UGA for your business, then Tourmatic is your choice for funcionality and matched value. Care to disagree?
Tourmatic - An Economical and Logical Choice

Technology in your Hands to be your BEST

As a provider of transport services, you will love the ROADWISE Transport Scheduler to manage the booking process. Roadwise provides you with a visual view of all bookings to monitor the business movement. Driver information can be maintained and drivers can be asigned to vehicles. Take the guess work out of vehicle and driver availablilty. In addition assign pickup and dropoff information per booking. Print paxlist, schedule plans, vehicle check list, trip sheet in seconds.
i-Drive Vehicle Rental / Car Pool Calendar
Maintain the rental status of vehicles in your rental fleet in seconds. With the i-Drive Vehicle Rental / Car Pool Calendar you can view any 365 day period. Vehicle bookings appear directly in the client's tour booking. A booking period can be easily changed and double bookings are avoided.

Featherbeds Accommodation Calendar
Use Featherbeds (manages multi-properties) to maintain the availability of accommodation. For example, if you have allotment booking agreements with suppliers or rent your own accommodation, then Featherbeds is a simple tool to help you track the availability of your room stock.

Tourmatic does the Hardwork, You do the Good Work

Tour Dashboard
The Tour Dashboard provides a two-dimensional view of all tours that are scheduled and running for any period. Identify your peak and slack periods immediately. Forward plan and distribute your capacity optimally. View a summary of the tour itinerary at a mouse click. You can also drill down to the tour details and portfolio.

Panta rhei Boat Cruise Scheduler
The Panta rhei is a Boat Cruise Scheduler that shows the status of all boats booked out. Scheduling and availability of cruises has never been easier. That is, book and allocate boats, create quotes, bookings, invoices, process payments, pax list, cruise schedules, sort and search for information.

Time Matters
Time Matters is a time based calendar that manages and schedules all your appointments in a simple manner. All scheduled appointments made can be viewed per day and printed. Time planning is simplified as it is accessible from one system.

Night Express Online Hospitality Management Software
The Reality Only You can Change
Managing a Guest House, B&B, Lodge, etc. is hard work. With limited resources you have to do everything from planning, organizing, leading and controlling. Specifically, you have to manage your quotations, availability and reservations, marketing, invoicing, payments, reporting etc. Also not forgetting that you have to play host, make breakfast and clean rooms. You have to be a "Jack of all Trades". Thats a fact Jack!
Night Express Manages your Mental Workload
Manage your Mental Workload, Business Data and Information with direction. Search and sort information
easily and react faster. Put an end to fragmented and lost business information. Poor information is confusing to clients resulting in negative consequences and a loss of credibility. Eliminate the guesswork in business matters by working with quality data and consistent information from the beginning. Try it and you will not look back.
Night Express has simplified the following and more:
· Availability
· Reservation Management (streamlined group bookings)
· Guest Management
· Billing (Split and Casual Billing)
· Payment Management
· Shift Control
· Reporting
· Online Booking
· Point Of Sale Integration
You operate with almost all the business processes of a hotel, but certainly not with the budget of a hotel. Night Express will resolve this constraint for you with its feature rich value for a low price. On a lighter side, if you are running a little house on the praries, why would you want a system that manages the Buckingham Palace?
Get Started!

Tourmatic for Tour Operators
Night Express for Guesthouses
System
Requirements

PC or Laptop
· Pentium 4 /AMD Processor (2.0 GHZ + )
· Microsoft Windows 7/Vista/XP (SP 3)
· All versions must be professional or higher
· 30 GB disk space
· 1 GB RAM or more
· 17" Display (or larger) - at least 1024 X 768 resolution
· Printer
· Microsoft Outlook - for e-mail Network card
Note: Linux and Mac operating systems are not supported.